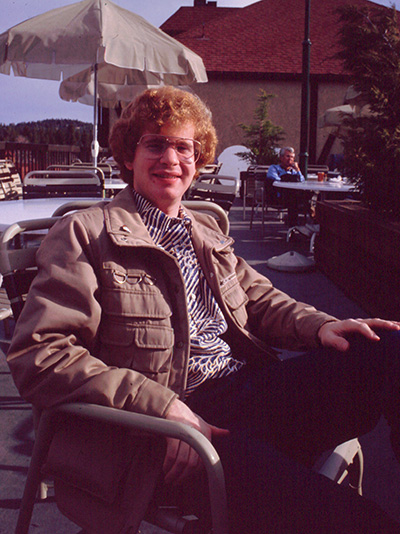 Monty Python's Flying Circus was in reruns on a television with rabbit ears. MTV was about to launch a new phenomenon called a music video, and the VCR whirred late into the night capturing The Midnight Special. it was during this time that kyle would spend his afternoons at his dad's urban planning company watching and observing something that would have a significant influence in his life's trajectory. jeff at work. jeff was not only having so much fun doing his job, he was coming up with such obscure creative things. he was a graphic designer, and as eclectic and creative as they come. kyle resonated with what he was doing. it wasn't long until kyle knew that someday, he wanted to be able to say, "i'm a graphic designer"… with the same creativity and humor that jeff did.
as the '80s began, his exposure to creative education paths expanded, and industrial design caught his attention. it combined the thoughtful, thought-through process and design sensitivity that was part of kyle's inner being. but it was to be only a brief sidebar on his design career, because in 1984 apple introduced a beige box with this thing called a mouse. a macintosh. before long, kyle was helping modernize and update his dad's firm, and teaching his college professors about this new tool for design.
in the late 80's, the housing downturn hit his dad's firm pretty hard. so kyle decided to pursue his graphic design career on his own. several dynamic clients later, and some pro-bono work, led to an opportunity to join a local church in making a positive difference in the community. in 1991, he joined staff at mariners church in newport beach, california (now in irvine) where he would design, photograph, art direct and oversee the look and feel of this growing and thriving church — now with over 9,000 members — for over 25 years.
in the later part of his time at mariners, kyle had a passion for training up new designers who could lead the look and feel of mariners church, so the set-up was in place. the church was going thru changes that included new senior leadership and at the same time kyle and his wife felt a calling out of california. with incredible timing, through tears of joy and years of wonderful memories, he stepped down from his role and handed the mantle to the next generation as he and his wife moved to colorado.
and this is where we pick up the story… in a new context inspiring new creativity in a new city, grand junction, colorado. just a bit east of utah. 
reach out, i'd enjoy hearing from you kyle@kwgrafx.com or you can call or text me at 970.444.2594‬
p.s. if you watched the Midnight Special clip above, kyle was at the concert steven mentions in his chat with ted.