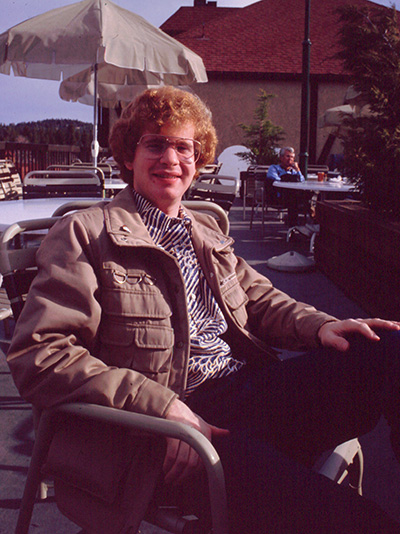 no, this isn't Napoleon Dynamite.
it's kyle webb
about the time he
was starting his
design and photography
trajectory
Monty Python's Flying Circus was in reruns on a television with rabbit ears. MTV was about to launch a new phenomenon called a music video, and the VCR whirred late into the night capturing The Midnight Special. 
it was during this time that kyle webb (k.w.) would walk from jr high school to his dad's urban planning firm, J L Webb Planning in newport beach, where he would spend his afternoons enjoying a hot fudge sundae with peanuts and whipped cream from JoJo's across the parking lot, and witnessing something that would have a significant influence in his life's trajectory: jef, a graphic designer as eclectic and creative as they come.
not only was jef having fun at his job, but he was coming up with obscure and humorous solutions along the way. even the sculpture (his senior thesis) that hung in the office captured the scale, genius, simplicity and obscurity of his art. kyle resonated with what he saw jef doing. and it wasn't long until kyle knew that someday, he wanted to be able to say, "i'm a graphic designer"… designing with the same irreverence, intelligence and creativity that he witnessed in jef. 
as the '80s blew through town, kyle graduated high school and was working part-time at his father's firm. his exposure to other creative education paths was expanding, and industrial design quickly caught his attention. it combined the thoughtful, thought-through process and design sensitivity that was part of kyle's inner being. but this departure was to be only a brief sidebar in his design career, because in 1984 apple introduced something new to the world that would ultimately change how graphic design was done. a small beige box with a mouse and black and white graphic screen. it was called macintosh. before long, kyle was helping modernize and update his dad's firm (seen here in 1987 at his desk–still a drafting table–with his new-born son and a macintosh SE), and showing his college professors what this new tool for design could do. 
in the late 80's, the housing downturn hit his dad's firm pretty hard. so kyle decided this was a good time to pursue his graphic design career on his own. several dynamic clients later, and some pro-bono work led to an opportunity to volunteer with mariners church, a large local church making a positive difference in the community. in 1991, he joined staff at mariners in newport beach, california (now located in irvine) where he would design, photograph, art direct and oversee the look and feel of this growing and thriving group of people for over 25 years.
in the later part of his time at the church, kyle had a passion for training up new designers who could lead the look and feel of mariners church, so the set-up was in place. the church was going thru some changes that included new senior leadership and at the same time kyle and his wife felt a calling to move out of california. with incredible timing, through tears of joy and years of wonderful memories, he stepped down from his role and handed the mantle to the next generation of designers as he and his wife headed to colorado.
and this is where we pick up the story… in a new context inspiring new creativity in a new city, grand junction, colorado. just a few miles east of utah. kyle has found friends of like-mind in "the valley" and is putting his design, photography and communication skills to work helping build awareness of local food farmed by good people and supporting a healthy local food community. he also spends time using his skills to help build his wife cinda's new business Preserving Techniques… "preserving techniques and techniques worth preserving."
recently, kyle has been teaching digital photography classes as a volunteer at the 970west studio (part of the mesa county library) and from january – april 2023 is the artist-in-residence at the library.
reach out, i'd enjoy hearing from you kyle@kwgrafx.com or you can call or text me at 970.444.2594
p.s. if you clicked and watched the midnight special clip above, kyle was at the concert steven mentions in his chat with ted.